In Between, the title of Bo Haglund´s latest exhibition makes reference to a state of mind where people find themselves in an interstitial or in-between space.
Bo Haglund´s exhibition comprises a series of oil portraits and three-dimensional installations. The characters in the portraits observe the gallery space from their vantage point on the wall through a number of obstacles, including bubble wrap, chicken wire and tissue. In terms of their thought process, they find themselves in an in-between state that provides them with a two-way perspective, looking both inward and outward.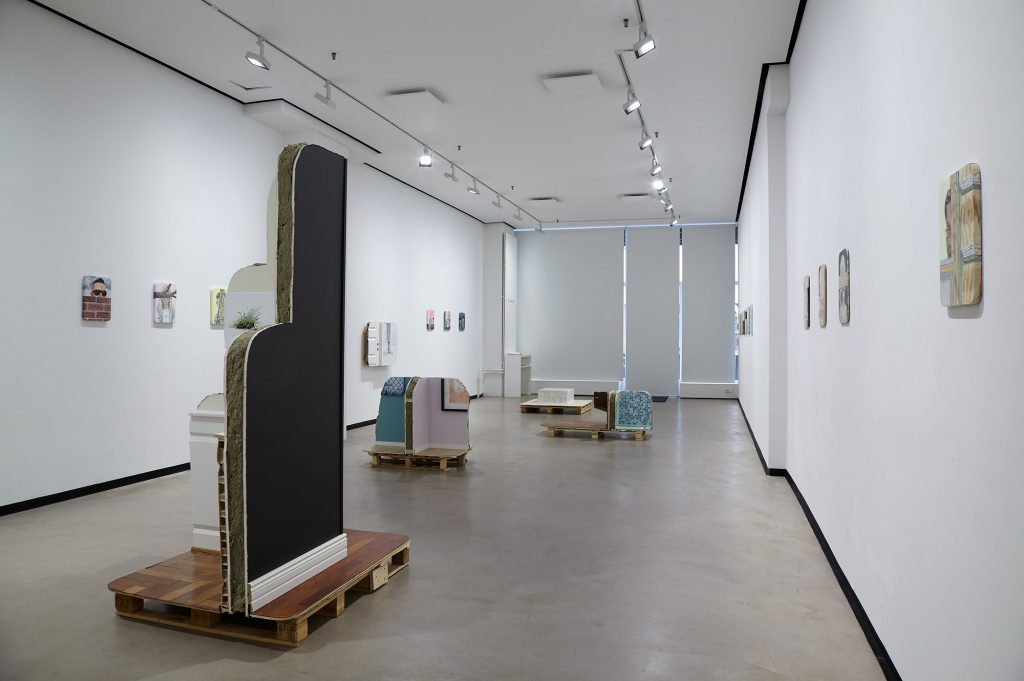 The gallery floor space is taken over by elements taken from a fictitious room, with the hidden spaces between walls and floors, like the sub-conscious layers of the human mind, placed on open display. With the theatre-like setting, it is possible for the space being to be used as the scene for a variety of different events but, because of its inherent imperfection and incompleteness, it also exerts a restrictive role on the surroundings, the space becoming a symbol for lost opportunity.
Bo Haglund´s paintings and sculptures create an entirely new type of space, a fictional other contained within the actual gallery, an in-between space, where the paintings and sculptures are engaged in a dialogue, with one another, with the gallery space and with the viewer. His works are an attempt to articulate human emotions and experiences that elude expression – and to surround and envelop the viewer in them.
Rauli Heino
Thanks: Konaflex, Svenska kulturfonden, Arts Promotion Centre Finland.